Firefaucet? What's that? How can I earn money with it?

Firefaucet.win is a faucet, but it's a special one. A faucet is a site where you can claim free cryptocurrencies. Free? Yeah, really free. All you have to do is solve a captcha or use a shortlink and you already get some cryptos.
By the way, I already wrote a little guide for faucets. There you can find a short explanation how to start with faucets.
Normally, faucets suck, because the earnings are way too low. At most faucets, you can click for an hour and earn an abyssmal amount of 20 Cent or less. That's just bad.
Firefaucet is a little bit different. The reward is still low, but it's automatic. You register there and start their autofaucet. Every few minutes, depending on your settings, you earn some cryptos. You don't have to stay active at their site too, it's no problem if you let it sit in a tab in the background.
But the amount of claims is limited. You get new claims every day. If you have used all your claims, the faucet stops. But you can get new claims by doing different stuff.
For example, you can click on shortlinks or watch PTC Ads. You can also mine for claims. The more hashes you produce, the more claims you get. But even with the daily bonus you get from solving one captcha, it is enough to let the faucet run for a few hours every day.
Let me show you the menu from Firefaucet.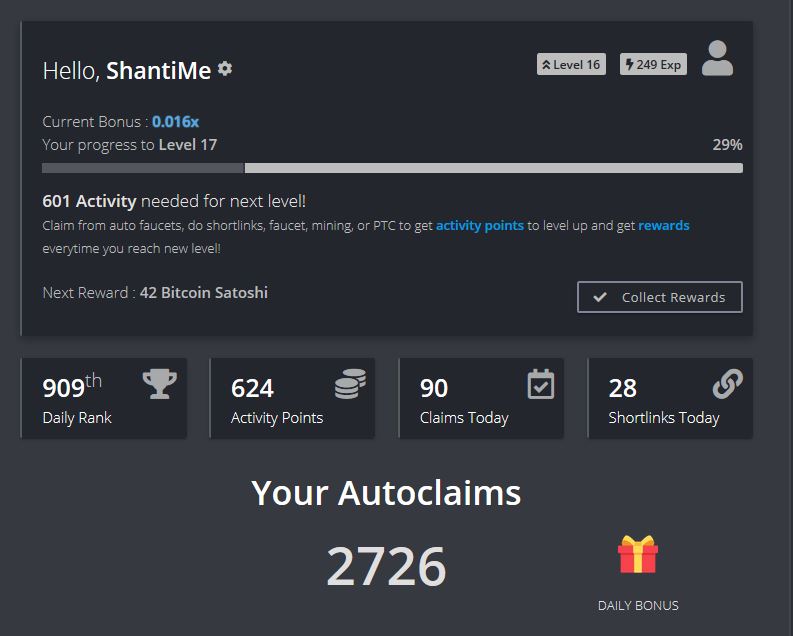 The more claims you have, the better. You can set the time between each claim as you like, that means, the more claims you have, the more cryptocurrencies you get from Firefaucet. My recommendation is to use either 1 minute or 10 minute waiting time between each claim. Because if you do so, you get more coins as a bonus.
You can claim different cryptos at once. You can claim the popular ones like Bitcoin, Ethereum, Dogecoin, Litecoin and some more.
Also, you can find a really cool level system at Firefaucet. For nearly every thing you do there, you get activity points. If you have enough of them, you get a level up. For that, you get a few Satoshis. 1 Bitcoin equals 100 million Satoshi, just to mention that.
You also get a few more coins from the faucet for every level up. The reward increases just by 0,01 % per level, but I have to admit, for me as a gamer it's quite rewarding.
I usually hate shortlinks, but I have to admit, I really do shortlinks sometimes at Firefaucet. This level up system really hooked me up and it motivates me to do some shortlinks sometimes. Good job Firefaucet, you hooked me! 😀
You get activity points for nearly everything at Firefaucet, as you can see here.

The higher your level, the more points you need to level up.
There is also a daily tournament to get the most activity points per day. The first prize are 10 Dogecoins, that's not that much. And it's nearly impossible to get a decent place without investing a lot of time. It's absolutly not worth it.
But maybe I will invest the time once, just to test it. But I don't recommend it, it's way too much effort for just 10 Dogecoins.
Is Firefaucet legit? Do I really get my money?
Yeah, of course Firefaucet is legit and you get your money. The big advantage at Firefaucet is, that you get your money automatically to your Faucethub-Wallet. Faucethub is a microwallet, you can collect a lot of different coins there and if you have enough, you can send them to your own wallet. But the transactions of cryptocurrencies cost money too, that's why you need a microwallet. Else, the cost for the transactions would be higher than the money you get from each claim from a faucet.
Alternatively, you can get your coins directly to your Firefaucet account and transfer them manually to your Fauethub-Wallet. If you set the autoclaim timer to 1 minute, you can just transfer to your Firefaucet account. But it's easy to send the money to Faucethub, as you can see here.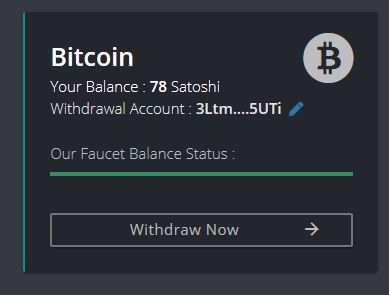 As you see, I just sent 78 Satoshis from Firefaucet to Faucethub. It took around 5 seconds for my money to arrive at Faucethub, that's really quick.
Firefaucet is definitely legit and they pay you. Of course, Faucethub also pays you. Faucethub exists for years now and it's used worldwide to send small amounts of cryptocurrencies to other people.
What do I get if I refer people?
Firefaucet can only survive, if enough people use it. They make their money with ads and if they have no users, they make no money. That means, they are happy if you refer people.
And they pay you for that. If you manage to refer a friend to Firefaucet, you get 1 Satoshi for every 40 claims that your friend makes. That's not much, but because you can claim once every minute, you get 1,5 Satoshi per hour. Still not much, but it's better than nothing.
If you manage to refer a lot of people to Firefaucet, you can easily earn a few hundred Satoshi per day without doing anything.
Pros
Direct payment to Faucethub
The level system really makes fun
Cons
The payment could be better
Low referral income
Conclusion
Firefaucet is a great faucet, that really makes fun. At least for me it is entertaining.
You can easily let it run with other sites like eBesucher or Cashmining and make some money every day. Even if you do other stuff at your PC, it runs in the background. And if you decide to be active there and do some shortlinks or PTC Ads, the reward is really great. You get Satoshis and level ups and that's really motivating. Especially for me as a gamer. I normally hate Shortlinks, but sometimes, I do them at Firefaucet, just to get one more level up.
Firefaucet really convinced me and I like it and use it a lot. If you are interested now, feel free to check it out.
If you use my link here to test it, I get you as a referral, thanks for using it. If questions occur, don't hesitate to contact me, I gladly help you out.
And if you don't want to miss new sites to earn money, register for my newsletter at the right sidebar. I inform you as soon as I find some new cool sites to make some money with. 🙂