eBesucher is a great site to make money online. You can easily earn passive income there. You just need to go to their site and start the surfbar, as soon as you start your PC. Nothing more to do. How that works and how you are able to make money online there will be explained by me in this review. But don't be too happy, you won't get rich with it. You can earn between 1 and 2 Euro per month, depending on the amount of time you are on your PC. That's not much, but you get them for free, without doing anything. 🙂
How can I earn money with eBesucher?
There are two different ways, to make money online at eBesucher. The first way is with Paidmails and Paid-to-Click. They send you mails, you have to confirm them and get some money. You can also click on some ads, but they aren't really worth your time. The ads are really bad paid, I wouldn't recommend them. For now, nothing special or new at eBesucher, Paidmails and Paid-to-Click are pretty common in the internet.
The interesting thing is their Surfbar. It enables you to earn money without doing anything. Pure passive income. You just have to start the surfbar, as soon as you start your PC. That's enough, now you earn money online. The surfbar runs in a tab in your browser and visits different sites. For each site, you earn points. You don't earn many points, but you don't have to click anything or confirm a visit or such a thing. Just start it. I earn around 200 points per hour. 1000 points are 2,2 Cent (Euro). Around every 3 hours you earn 1 cent. The surfbar itself isn't using many ressources from your PC, that means, you can do whatever you want meanwhile. If you are a gamer, you can run it while you play games, it works without any problems. You can choose, if you want the surfbar to visit sites with Pop-ups or not. You earn more, if you enable pop-ups, but I have them disabled, because they are really annoying to me. If you are online for 5 hours per day, you earn 2 Cent daily. Not much, but it takes no effort for this. Over time, you can make some money online with it easily.
Here you can see my daily income at eBesucher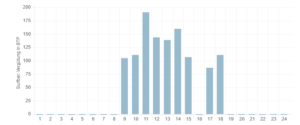 As you can see, my income varies a lot. Here for example I made around 100 points per hour, but I also had days, where I made over 500 points every hour. I usually make 200 points per hour, as I already said. It also depends on the country you live in, how many points you earn.
You could also let your PC run for the night and let it surf for you, but I am not recommending this. The income isn't enough to pay for your electricity costs. However, if you are using more sites with a surfbar (more recommendations coming soon), you can easily earn around 1 Euro per day without investing any time at all.
Is eBesucher legit?
Yes, it is. The site already exists since 2002 and there are a lot of payment proofs from different people. I also got paid already, as you can see on my screenshot here.

Don't worry, TurboAd GmbH is the owner of eBesucher.
You can cash out with Paypal or to you bank account. eBesucher is usable worldwide, it doesn't matter where you live. The payments can take up to a week, but you can be sure to get your money.
If you ever have any problems with their surfbar or other things concerning their site, feel free to contact their support. They answer really fast and reliable. I have already contacted them several times and told them about sites, that are disrupting their surfbar. That's not allowed at eBesucher. For every site I got either 500 or 1000 points. But you can't cash them out, you can only use them to advertise your own homepage there. If you have a homepage yourself, you can advertise them at eBesucher.
What do I get if I refer people?
Like most other sites where you can make money online, there is also a referral program at eBesucher. If you manage to convince someone and they register with your personal link, you get them as a referral. That means, you get money too, if your referral eans money. You get the money as a bonus, your referral won't lose a cent. Sites like eBesucher are dependent on a large community, that's why they pay you if you manage to refer some people to them.
You get 8 % of everything your referral earns. Of course, they don't get less, eBesucher just pays you as a bonus. If your referral manages to get some referrals for himself, you get also 5 % of their earning.
Pros
Earn money online without any effort
Great support
Contra
Payments can take around a week
Paidmails and PTC aren't paid very well
Conclusion
eBesucher is a great site. It's one of my favourites out there to make money online. As soon as I start the PC, I start their surfbar and let it run in the background. You don't earn much with it, but it's better than nothing. I also have other sites with surfbars, so I earn some Cents every day without doing anything. Each month I get a few Euro without any work, just with this sort of passive income.
If you are curious now and want to check it out to make some money there, feel free to use my link below. If you use them, you are becoming my referral, that means I earn some money too. That supports my project here and helps me to keep my site free from ads, thank you very much. 🙂