BE AWARE!
This site has a new owner and is currently not paying. Some users even told me that the just lost the money at Cashmining. As such a thing is not tolerated by me, I cannot recommend Cashmining right now. Please keep that in mind. I will not remove my review here right now, maybe Cashmining will get back on track. But right now, it is a Scam and IS NOT PAYING. (Updated 21.12.2018)
Update from 21.01.2018
I also tried to cashout and followed their rules. I uploaded a proof of payment from the last payment I got and still, I got no money. They didn't pay me. That means, the site completely turned to scam now, so stay away. Also, stay away from Minenaira.com. They have the same admins, chances are high, that you won't get paid there too. Stay away from both their sites.
Finally, a new site to make some money. And the best thing is, it's a pure passive income. No investment needed. You register there and earn money every second. You don't earn much money there, but hey, it's for free and it pays. The site isn't online for a long time, it's online since early 2018. But as you will see, the owner pays you, as I already received a payment myself.
How can I earn money with CashMining?
Well, first you need to register at CashMining. Let me show you the main menu of CashMining.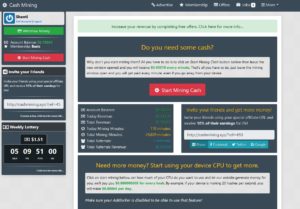 You get 0,01 Dollar for every 100 minutes you use the autosurf tool at CashMining. Sure, that's not much, but if you let it run for some hours every day, you earn a few cent every day. If you combine that with other sources of passive income without investment like eBesucher or MoneySMS, if you prefer to use your phone, you can easily make a dollar every day without doing anything.
I start CashMining as soon as I start my PC and let it run. You just have to start it and let it surf for you. You don't need to click anything, you don't need to invest any time at all. Just let it surf and earn money.
If you are curious, how the site owner earns his money, I can answer you that. I actually contacted him and asked him about that. He gets paid if people visit his partner sites. That means, we get paid a share if we visit them with his autosurf tool. It's a really awesome way to earn money without doing anything.
Additionaly, you get special rewards, if you surf long enough, as you can see here.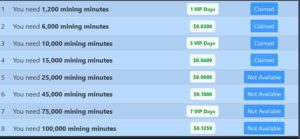 They also have a VIP-programm. But I don't recommend it. I don't like to invest money to earn more money, that's a stupid concept. But you don't need to invest to earn money online there.
What do I get if I refer people?
As usual, such a site lives from the amount of users it has. That's why you get paid, if you refer people there. You get 10 % of everything your referral earns. Of course, he doesn't earn less, you just get it paid as a bonus. That means, if your referral surfs 1000 minutes, you get 1 cent. Of course, that's not much, but once again, it's better than nothing. And you don't have to work for it. And if you manage to acquire some referrals, it sums up pretty quickly.
Does CashMining really pay me?
Yeah, it does. CashMining is a legit site and you get paid. Of course, I tested it, here you can see the proof. I received the money quite fast, it took just a day.

Don't worry, NGB Freelancer is the name of the owner at PayPal. But the payment is from CashMining. The minimum cashout are 10 Dollar and you need to mine for at least 15000 minutes. That means, you can't cash out, if you just refer people. You have to surf at least yourself for 15000 minutes. Sounds much, but it's easily achievable. If you let it surf for 5 hours per day, you need 50 days to achieve 15000 minutes. But if you are using your PC a lot like me, you can let it surf for 10 or 12 hours per day.
Currently, you can cash out with Payeer.
Pros
Passive income without an investment
Fast payment
Cons
The payment is low
Conclusion
CashMining is a great site to use. Altough the payment is low, it's passive income without an investment. You can easily combine it with other sites or apps such as eBesucher or MoneySMS to easily earn 1 Dollar or more per day without doing anything. Still not much, but you get the money for free, I think that's absolutly worth it. Also, the payment from CashMining arrives really fast and the support is pretty good. I can recommend it to everyone, who wants to earn a few Dollar each month without doing anything.
If you are interested, feel free to use my referral link. With that, you help me support my site and to keep it free from adds. Thank you 🙂