In one of my last articles I wrote about HYIP (you can read it here) and why I think they suck. My opinion about them didn't change. HYIP are scams and should be called out. The owner of a HYIP only wants to steal your money, nothing else. But a small thing changed for me. Meanwhile I believe, that a lot of people who recommend HYIP are really thinking, they are a legit business. They recommend a site to other people and think, they are doing a good deed. In the last few days, I talked with a lot of people and told them, that HYIP are a scam and why they are a scam and how they work. A lot of them thanked me and really appreciated my words. I saved their money for them and stopped them from investing in such a dubious business. That's why I thought it would be nice to write a guide to help everybody to easily detect a scam. I am sure, that saves a lot of people lots of money.
How can I detect if a site is legit or not?
This is a hard question and I just can't give a definitive answer. It depends on a lot of things. That's why I show you some easy tricks. You can use them to detect a scam within a minute and stay away from it. If you see an interesting site, first look at their promises. How high is the profit you can make there? After you found an answer, just ask yourself this question.
Does it sound too good to be true?
If you can answer that question with a yes, you should stay away. It's a scam. Yeah, really, it is. No, it's not a "one-time business opportunity". No, it's not the chance you waited your whole life for. It's a scam. They want your money. I show you a screenshot, how such a thing looks.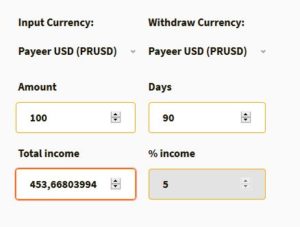 This site promises to pay you back four times the amount you paid them. After 90 days. Sounds good? Yes. Does it sound too good to be true? Yes, of course. It's a scam. But believe me, it's getting more ridiculous now.

That's a screenshot from a Cloud Mining site. Cloud Mining is mostly a scam, but this one, seriously, this one is just funny. They promise you 16 % interest. That would be a lot per year. But they promise you such a thing DAILY. Just to show you, how absolutly absurd this is, let me do the math for you.
You invest 10 Dollar there for 100 days. How much money do you think you are getting back? Just for yourself. What do you think? 350 Dollar? 1000 Dollar? Maybe even more than 10.000 Dollar?
Nope, wrong. They promise you 27.912.511,99 Dollar. Yeah, right. 27 millions.
They really claim, they are able to take 10 Dollar from you and make over 27 millions out of it. In just 100 days. Now ask yourself the question again? Yeah, that sounds way too good to be true. Definitly a scam again. Stay away!
Now the second question.
How does the site make money?
If you check out a site, you want to know, how to make money there. You know, that the owner of the site also wants to earn money. He can't work for free, that's only natural. He has to cover his expenses for the hosting service and other things. Every company needs a business model to earn money. If they can't make money, they can't pay you. That's why you should always ask "How does this site make money"? Let us look at PTC for example. It's easy there. They get money for the ads. You watch the ads and they pay you a share of the income for it.
Or let us take faucets (you can read about faucets here) as example. They pay you small sums of different cryptocurrencies if you click on their shortlinks and solve their captchas. The owner of the site earns his money with it and they pay you back for it.
Let's look at our screenshots from before once more. If someone would be able to make a profit of over 400 % of an investment in just 90 days, how are they going to achieve that? Usually, such sites doesn't even take fees. How do they earn money themselves? If you don't manage to find an answer to that question or if you just find something shady, better stay back. I show you an example from a HYIP.

The site makes money like every trader worldwide. At least, they claim such a thing. Personally, I don't know any trader worldwide, who is able to accomplish such a feat. And I can guarantee you, noone is able to do that. Sure, sometimes a trader is lucky and manages to multiply his investment, but he can't do it all the time. That's impossible. That means, this site has absolutly no possibility to earn enough money to cash you out. Again, a scam.
If they don't tell you anything at all, you can be sure, they are a scam. Stay away!
Let's come to the third and last question.
Who is the owner of the site?
If a site runs a legitimate business, they have no reason to hide their identity. Also, it's a necessity in a lot of countries. It's not allowed there, to hide your identity if you run a business. Look at the whole site and try to find an owner. Is there one? If not, it's a sign, that this is a scam.
Although, if you find an owner, it doesn't mean he is real. A lot of sites currently try to win your trust by putting names and photos of their employees on their site. Google their names. Mostly, you won't find anything at all. One of the sites I reviewed for this article has the name "Valgeir Amundson" as CEO listed. I searched his name on Google and found nothing. He simply doesn't exist. They put a random photo with a random name there, just to win your trust.
If you can't find an owner, better stay away. Why should they stay anonymous if they were a legitimate business?
What do I do after I asked this 3 questions?
If the answers to this questions are satisfying for you, you can look closely at the site. Now it's getting complicated, if you want to find out, if they are legit or not. First, you have to search on google for reviews, maybe you can find someone who already tried it. You can also check social media accounts for more information. If you encounter anything that gives you a bad feeling, stay away from it. There are lots of business opportunities online, no need to rush it. Better stay away and search for another site where you can invest your money. Sure, it's a lot of work to check every site, but it's your money. You should be cautious with it.
Even if you find some proof of payments, be cautious. It's common for scams, to pay people at first to lure more people in. As soon as they collect enough money, they stop all payments and take their site offline. If that happens, everybody loses their money. That means, even if you get payed once, it does not mean, that this site is legit.
If you still have any questions about this topic or want me to check a site for you, feel free to send me a mail or write a comment. Sure, even I can't tell you for sure, if a site is a legitimate business opportunity or a scam, but at least, I can help you a bit to decide and minimize your risks. You never get a guarantee, but at least, you can check everything before you invest. With my tips, you can easily do this without a lot of time consuming work. That makes your chances better to make money online!
I wish you a lot of luck on your journey to make money online and I hope, you learned a little bit today 🙂